Joey Deriquito
Content Writer
Nothing excites Joey more than a tank full of gas and an open road. He yearns for knowledge, always studying and researching about cars. Many of his friends would say that his car is an extension of himself, always able to observe when even a single bolt is out of place.
@AutoDealPH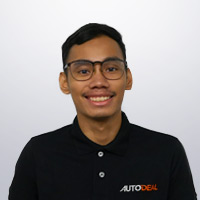 Volkswagen Philippines reopens select dealerships that now operate under the "new normal."

MG Philippines begins to resume its operations with select dealerships nationwide.

Ford Europe launches its high-powered limited edition Ford Ranger that isn't a Raptor dubbed the Thunder.

The German brand reopens its dealership doors to the public but with a couple of new guidelines set into place to ensure the health and safety of all.

Mitsubishi Philippines slowly restarts its entire dealership network with 4 more dealerships reopening on May 25, 2020.

The 2020 Suzuki Swift facelift is now on sale in its home country of Japan with better tech and safety features.

Honda vehicle owners will be happy to know that it's dealerships are now open nationwide.

Ford Philippines slowly begins to reopen its doors to the public with select dealerships.

Nissan Philippines reopens select dealerships with new health and safety guidelines.

Chery Auto Philippines has launched a new mobile phone application for an easier ownership experience and to act as a virtual showroom.

The all-new Nissan Kicks e-power is the brand's answer to electric vehicle range anxiety.

While the vehicle is showing its age its facelifted model seeks to remedy that with a new front clip and updated features.

Hyundai presents its ARMOR program for adapting to the "new normal" with new and thorough health and safety protocols.

The new priority lane, promos, and discounts are designed to give back to those who are working on the frontlines in the fight against COVID-19.

Toyota is rolling out new ways to make car buying easier in the "new normal"

High scores across the board has the 2021 Nissan Juke gets a 5-star NCAP and Euro NCAP rating.

The system has been reopened with the resumption of LTO offices in GCQ areas.

A quick guide to see which Toyota Vios variant fits you the best.

The LTO will present a new and more convenient way for you to renew your registration and driver's license quickly.

Volkswagen Philippines is giving its customers a helping hand with a 3-month warranty extension due to the current ECQ situation.

Kia has released a redesigned version of the Kia Picanto that now comes with new safety equipment and better technology.

You can now get the Geely Azkarra and Coolray with high-efficiency filters to help protect you from dirt, dust, and bacteria.

Tuason Racing and Phoenix fuel's Race for Frontliners concludes its second leg of sim racing.

Toyota accidentally confirms that it will be bringing in the GR Corolla hatchback for the United States market.

The United Asia Automotive Group steps up to the plate in support of its employees.

Toyota renames its Harrier crossover to adjust it for the global market.

Nissan is set to launch its first electric-powered crossover in Thailand.

The Japanese brand introduces a new way for customers to apply for an auto loan to help them get their new vehicle quickly and efficiently.

Toyota dealerships in GCQ areas reopen with new guidelines as they adapt to the "new normal"

Nissan Philippines reopens its dealerships and service facilities in select GQC areas.

Chery Auto posts an 8.4% growth all while aiding in the fight against the COVID-19 pandemic.

A new Honda model has just been trademarked in Australia with the name ZR-V.

Toyota Philippines offers its customers a convenient way to adhere to social distancing with its new servicing app.

A new variant of the Corolla Altis has just launched in Taiwan with GR goodies

Select Ford dealerships have reopened their doors to the public but with strict safety guidelines.

Maxus Philippines is ready to adopt new policies in light of lessons learned during the COVID-19 pandemic.

Volkswagen Philippines is readying to reopen its doors to customers with new guidelines to ensure health and safety.

A new crossover could be entering Chevrolet Philippines' model lineup in the form of the Tacker.

Chery Philippines is helping keep you and your passengers safe with its new N95 cabin filters.

New information about the X-trail's future power figures has been leaked through an early document for fleet customers.

Experts from AC Motors give advice on how to keep your car clean and how to take care during the quarantine.

Toyota Motor Co. and Toyota Group companies band together to make medical face shields.

Vehicle sales are showing a downward trend due to the enhanced community quarantine and the COVID-19 pandemic.

Hyundai aims to make its next-generation vehicles safer as its Hyundai Sonata gets a 5-star NHTSA rating and a Top Safety Pick award.

Toyota's gas V8 motors might no longer exist in the future as the brand slowly shifts towards V6 and hybrid drivetrains.

Here is a quick look at what the production Ariya could look like based on leaked patent photos.

Tuason Racing and Phoenix Pulse fuels begin a new round of sim racing is about to begin for medical frontliners.

The DTI is not allowing dealerships in enhanced community quarantine areas to re-open.

Honda Philippines extends a helping hand with the transportation of medical frontliners.

A racing event to both scratch the itch of racing enthusiasts and to help frontliners.