Jinno Rufino
Video Host
A sports anchor by night, and avid motorcyclist every hour of the day. Jinno is an adrenaline junkie with a love for two-wheelers, and the lifestyle associated with them. As the new host of MotoDeal's videos, he doesn't just talk about bikes, he annunciates whatever he thinks. He doesn't know how he became friends with Caco, however, he is younger and taller than him.
@AutoDealPH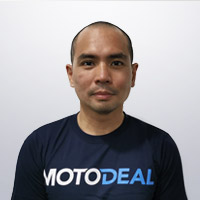 In this episode of Behind a Desk – Home edition Jinno sits down and explains the types of motorcycles that you can encounter in the showroom, online, or on Philippine roads. Bikes come in mu...

We review the 2019 Vespa GTS 300 Super Sport, a scooter that is perfect for the city streets of the Philippines. Ease of use is paired with rich Italian heritage and a lot of convenience fea...

The XSR700 went through thick and thin, ash and pollution, and is a great bike.

The 2019 Royal Enfield Continental GT 650, a classic look with just enough of a modern feel. This is the pilot episode of our new segment, Beyond the Ride. Check out more motorcycle-related...